Don't let them cut your wings: Live and death of nature photography as art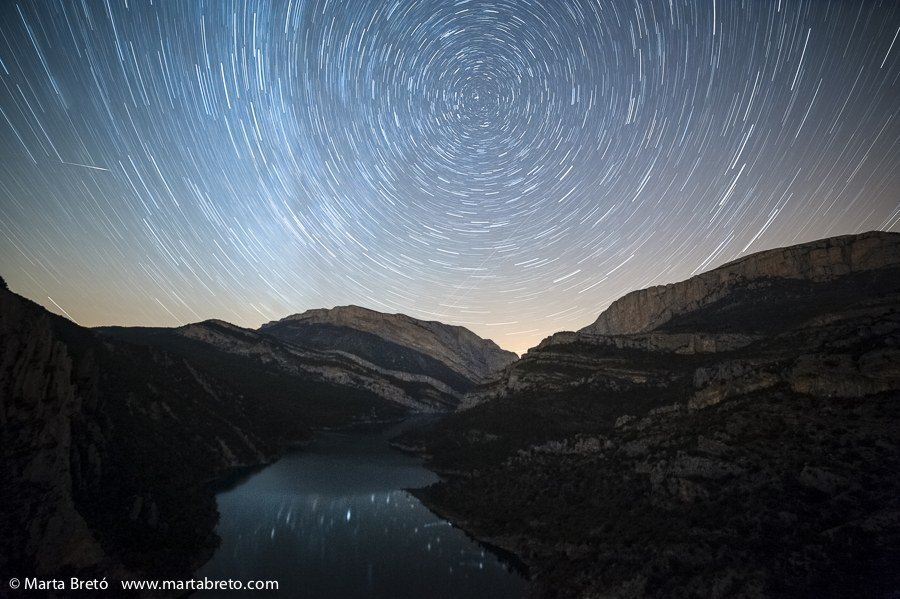 These days social networks boil on the alarming debate about what is and is not lawful in nature photography processing. One of many examples of what it seems to correspond to the work of the devil is the stack of two or more photographs, as you see in the circumpolar photography.
We must speak of image processing always having clear that ii is imperative in any digital image. Only in the step of performing the image itself, the camera is already implementing a first processed. When you open the RAW file, what the author does is a second processing depending on the uptake, correcting errors captured by the camera because of the electronic sensors performance characteristics (lack of contrast, saturation and sharpness). This step, I repeat, is absolutely necessary and should not be made based on making a mistake, but to alleviate errors by the pickup device.
Besides these two initial processes, two more remain; processing depending on the application or extended processing (if it comes to fashion photography, war or architecture, for example, they will be processed very different) and processing according to the exit, where what the photographer does is prepare its image for printing or uploading it to a website, taking into account factors such as color profiles, measurements or resolution.
I know that many photographers have these steps very clear, but the fact that nowadays, the way that the use of processing tools like Adobe PhotoShop is criticized, causes an unnecessary hunt of witches and often, users who use these tools they feel cornered and fingered by other photographers.
In nature photography, we must discern between what is a documentary photography and art photography. All we know that the processing of a document image is limited to general settings (curves, levels, etc.) but I will focus on the great misunderstood: artistic photography.
Many "purists" of photography may not agree with my statement, but for me in art anything goes and I strongly believe that photography is a method of artistic expression as any. I cannot understand how much time we have been saying that photography is a kind of art but then we cut the artist's wings saying what it's ok to do and what is not. You just have to take a look at the history of painting to see that there are different branches, not only portrait, landscape and biblical scenes, but disparate movements such as realism, romanticism, cubism and expressionism also exist, and oil painting, acrylic, gouache and many others. Then I wonder… What about nature photography? Must it be purely documentary? Why is that making an HDR, a stack of layers or a double exposure is so criticized? Perhaps it is because it is something new? No sir, because all this and much more has been done since forever, through various techniques applied within an analog photo lab. So, if it's been always done why it is so frowned upon now?
Lately it's said that when processing a photograph we're tricking the viewer, creating an image of something false, nonexistent or too idealized. This is because since long ago, when man sees a picture, it is taken as evidence of a reality. In these times, uploading a photograph of a landscape with a UFO does not fool anyone, but long ago it did, and there are photographs that, without proper accompaniment of a photo caption can get to be doubtfully true.
Does that mean that the use of expanded processed in nature photography serves only to idealize reality or invent it? Not at all. In fact, some of the most criticized techniques provide a very clear clue to science. A clear example is the stack of images, such as the circumpolar photography, where several images are stacked to demonstrate the rotation of the earth on its axis, or even focus stacking, where several photographs at different focus point will are made to increase depth of field object (often seen in scientific photography of insects) or the famous HDR (High Dynamic Range), which certainly misused does more harm than good, its true function is to match the dynamic range of the sensor from the camera to the one of the human eye. These are just a few examples of, the opposite of what is sometimes implied, these techniques serve to picture closer to reality. In fact, we have to keep in mind that digital image processing was invented for scientific purposes (medicine and NASA among others).
Some will say that the use of these techniques is not good simply because they either do not use them or don't know how to use them, and they really are entitled to use the technique that they wish to. But we have to take out of our mind that "PhotoShop" is a tool used by a few "because they can not take good pictures", because these have to be better or because their lack of material and/or knowledge to get the final result. The idea is that we as photographers, is not to show the reality of everyone in an image, but a personal and different vision that makes our work something special and unique. I mean, when we use a macro, showing an augmented reality, for example. Also, when we frame we are also inventing, selecting only that portion of landscape that interests us. Perhaps, from a great landscape we are only interested in a tree, or perhaps two feet from this tree there is a dump, but we wanted to show only the beauty of the place (for me that is also lie … isn't it? Because as I say, I think that photography is an art as painting is, so think again … If I had made a painting instead of a photography I still wouldn't have painted the dump! In an opposite way, it is possible to lie and deceive through photographs without processing an image, so digital image processing criticism becomes increasingly confused.
Back to images from the beginning: We have the same composition in two versions: the first, a circumpolar by stacking several photographs. This one technically presents higher quality as sensitivity was not necessary to be raised to stratospheric levels (as in the second case). That's why there is no noise and the details in the landscape are better preserved. Some would say this image is displayed "unreal", because raising the head and observing the night sky nobody sees light trails. However, these light trails give meaning to the scientific theory that the earth rotates on its own axis and Galileo Galilei would have been happy to have that clue to get rid of the courts. In the picture on the right we see the night sky through an exposure of just under half a minute. With no traces of light but the quiet stars in their position, and it can clearly be seen the Milky Way and Andromeda galaxy on the left. Is there a false picture? No, the two of them show a reality, but each one in its own way.
What I really want to say is that each one is the author of his work and the only one who can decide about it. This author shouldn't feel bad if he did the work in a way or another. It's your job, so believe in it. Don't let anybody to cut your wings.
I leave you with an interesting reflection of Ansel Adams, the father of landscape photography, thanks to who today some incomparable natural landscapes remain. He also manipulated his pictures in the laboratory and said that "the negative is the score, while the print is the interpretation":
"I look forward to new processes and new developments. I think the electronic image will be the next breakthrough. These systems have unavoidable structural characteristics, and both artists and technicians will make a renewed effort to understand and control "

Ansel Adams (1902 – 1984)
PS: The pictures of this post were taken in the Natural Park of Montsec, Starlight reserve. The starlight is such that stars are able to shine reflected on the river and it rebels the relief of the landscape. On the left in the sky, in the circumpolar picture, the flash of a passing satellite appears.
---